This was a labour of love... many hours of meticulous calligraphy writing in an old English script, and worth it for a poem I sell these days as a high quality print. 
Rudyard Kipling's 'If' poem means so much to the people who buy it. It's a poem about resilience and achievement, and about inner strength. But it's more: for the people who buy 'If' as a calligraphy gift, it shows love and pride. 
I sell a lot of these poem prints over the summer months when students graduate from university and college. Others are for milestone birthday gifts. Kipling's 'If' is also a great retirement gift idea: so many people learned this poem in school, and it lives on in our memories through our adult lives and careers.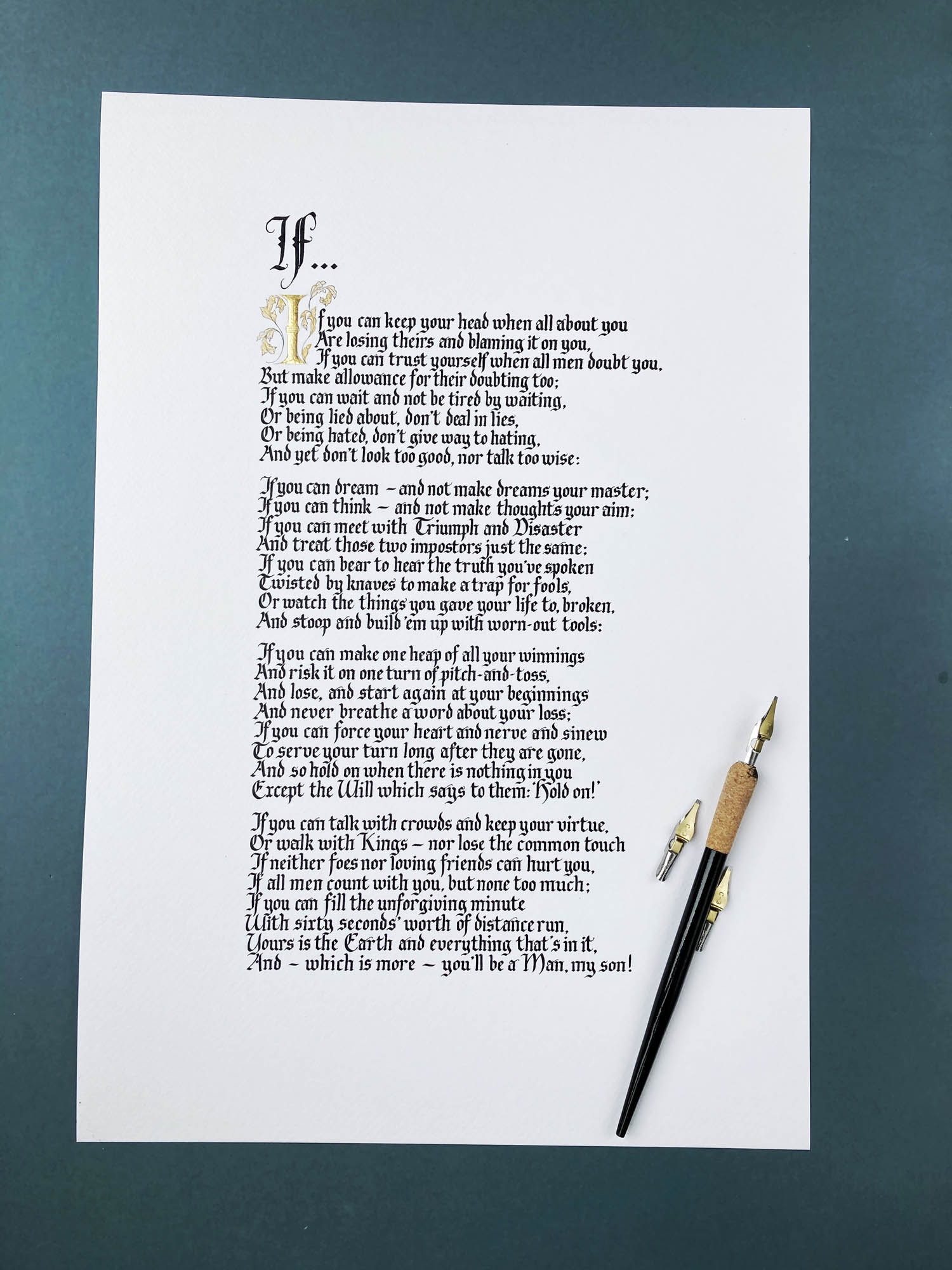 The original artwork for this poem was written in black sumi ink from Scribblers, using speedball calligraphy nibs on Bristol board (paper). 
Prints are on textured, high quality art paper. 
Every poem print is hand finished in 23 carat gold leaf with an ornamental letter 'I' decorated with a little scrollwork.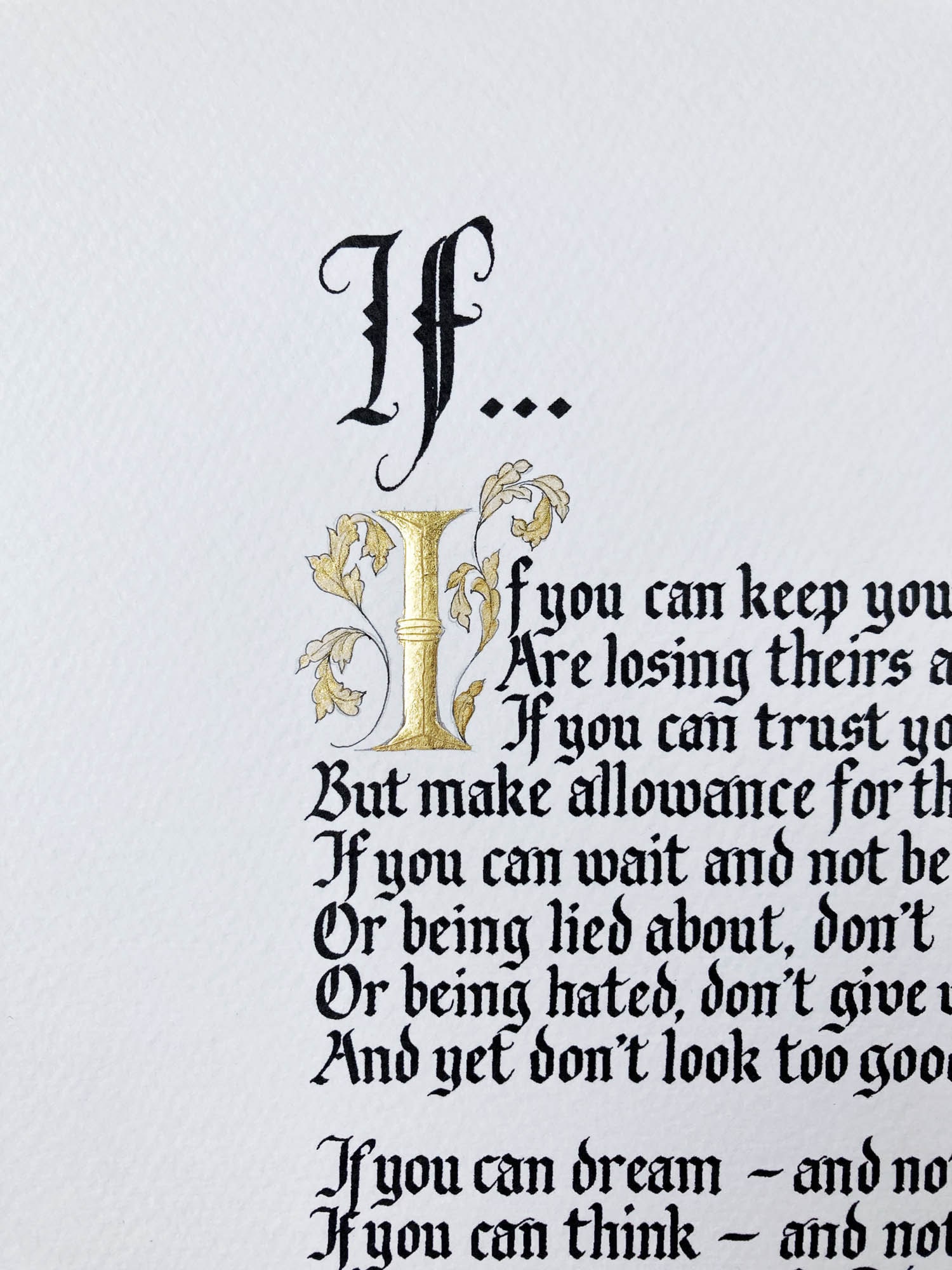 Calligraphy prints of If by Rudyard Kipling are sent as a scroll: rolled and tied with a ribbon, and wrapped in quality tissue to protect the gold leaf and print detail.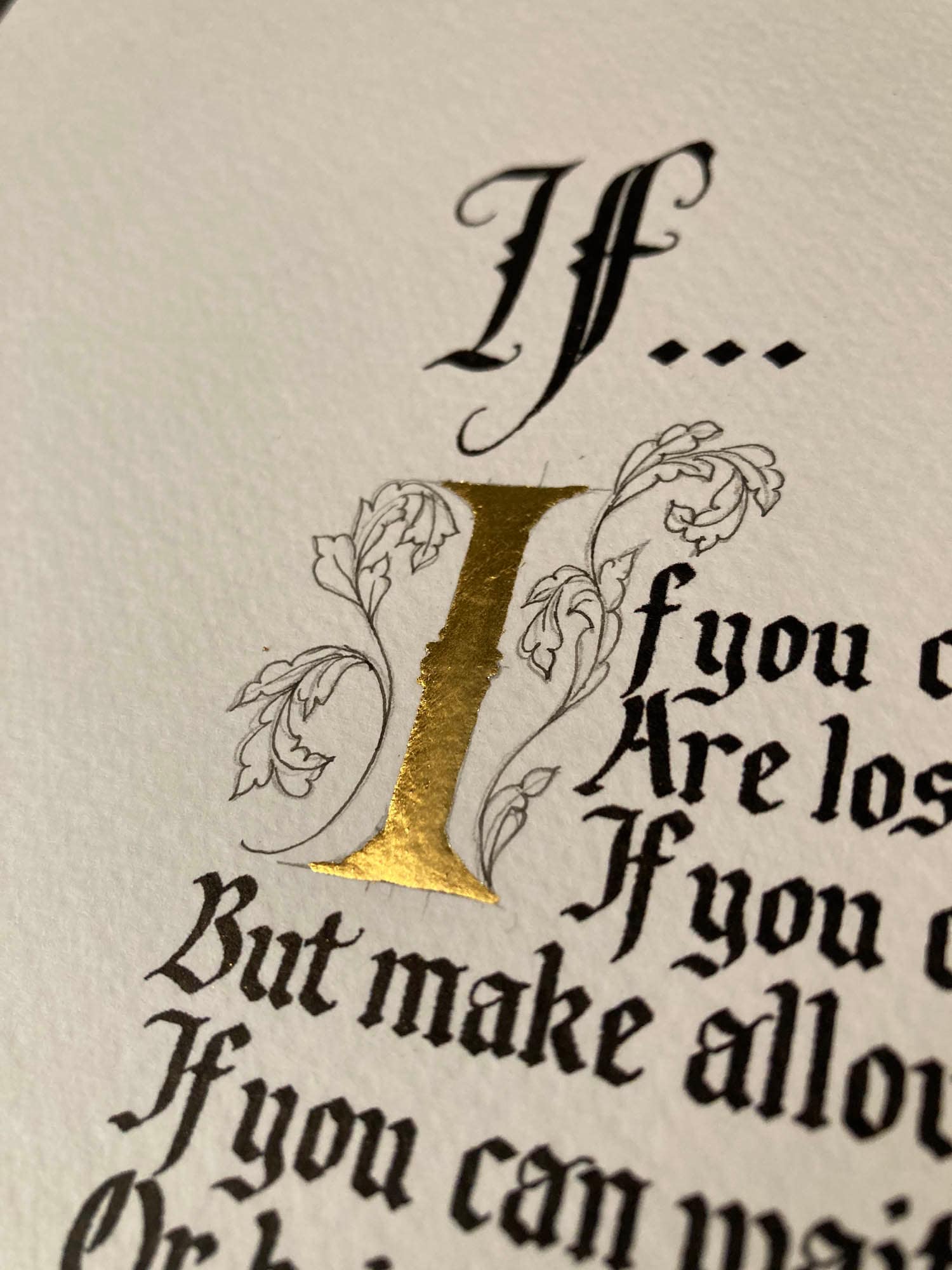 The making of 'If' - gold leaf is applied to gilding size (glue), before being burnished to a soft shine and then decorated with ornamental scrollwork in ink and gold paint.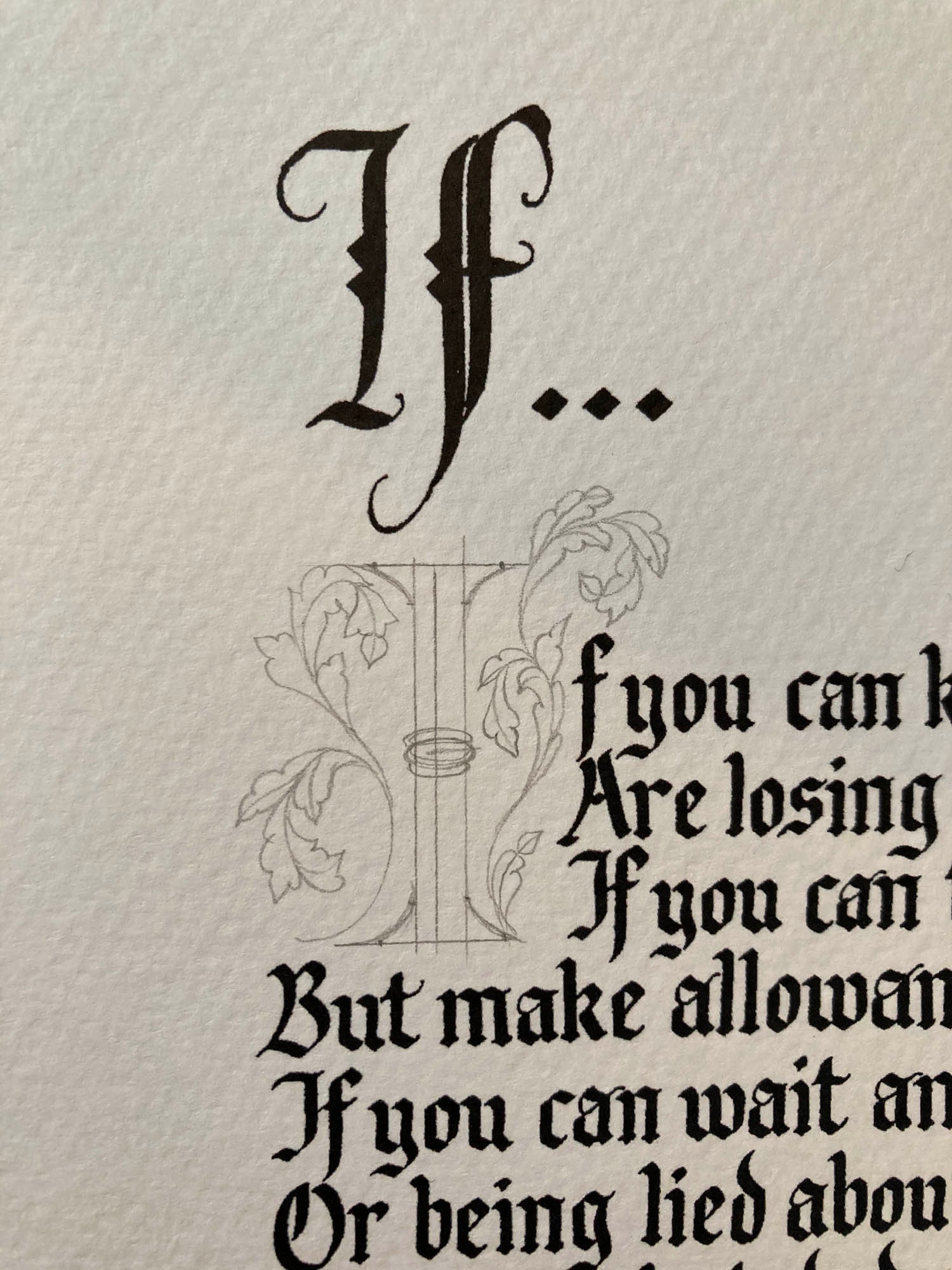 I also sell a more modern, simpler style of this poem as a quality print. You can buy a copy here: Modern version of If by Rudyard Kipling
The full text of the poem is as follows:
If
If you can keep your head when all about you   
    Are losing theirs and blaming it on you,   
If you can trust yourself when all men doubt you,
    But make allowance for their doubting too;   
If you can wait and not be tired by waiting,
    Or being lied about, don't deal in lies,
Or being hated, don't give way to hating,
    And yet don't look too good, nor talk too wise:
If you can dream—and not make dreams your master;   
    If you can think—and not make thoughts your aim;   
If you can meet with Triumph and Disaster
    And treat those two impostors just the same;   
If you can bear to hear the truth you've spoken
    Twisted by knaves to make a trap for fools,
Or watch the things you gave your life to, broken,
    And stoop and build 'em up with worn-out tools:
If you can make one heap of all your winnings
    And risk it on one turn of pitch-and-toss,
And lose, and start again at your beginnings
    And never breathe a word about your loss;
If you can force your heart and nerve and sinew
    To serve your turn long after they are gone,   
And so hold on when there is nothing in you
    Except the Will which says to them: 'Hold on!'
If you can talk with crowds and keep your virtue,   
    Or walk with Kings—nor lose the common touch,
If neither foes nor loving friends can hurt you,
    If all men count with you, but none too much;
If you can fill the unforgiving minute
    With sixty seconds' worth of distance run,   
Yours is the Earth and everything that's in it,   
    And—which is more—you'll be a Man, my son!
Source: Poetry Foundation
On a personal note, I have to confess my heart lies with Benjamin Zephaniah's 'What if' - if you're not familiar with this poem do read it here!