Some of the loveliest requests I get are for wedding calligraphy gifts. I guess we use a lot of words at weddings: we have special people doing wedding readings for ceremonies, giving speeches and so on. 
The top photo is a little commission I did for Chloe and Tom's wedding, all written by hand in metallic gold ink, and with a title in 23 carat gold leaf!
Of course there's all the opportunities for calligraphy on wedding stationery from invitations through to table plans and signage. 
And in the evenings, the first dance. 
So many couples spend hours choosing their song. Others just know the song they'll choose for their first dance because it's so meaningful to them. 
Song lyrics are one of my favourite things in life and in my calligraphy work. I really do love a good lyricist! (Current favourites: Frank Turner, Brian Fallon, Korn's Jonathan Davis!)
Whatever words will play a part on your wedding day, I'd love to write them in calligraphy. 
Email me for a quote for wedding reading calligraphy, or poem calligraphy. Prices start from £20 for up to 20 words. 
I even have a simple 'buy online' option if you prefer. Click here to buy a custom calligraphy poem written especially for you! Don't forget to include the couple's names when you order so I can add them to the design!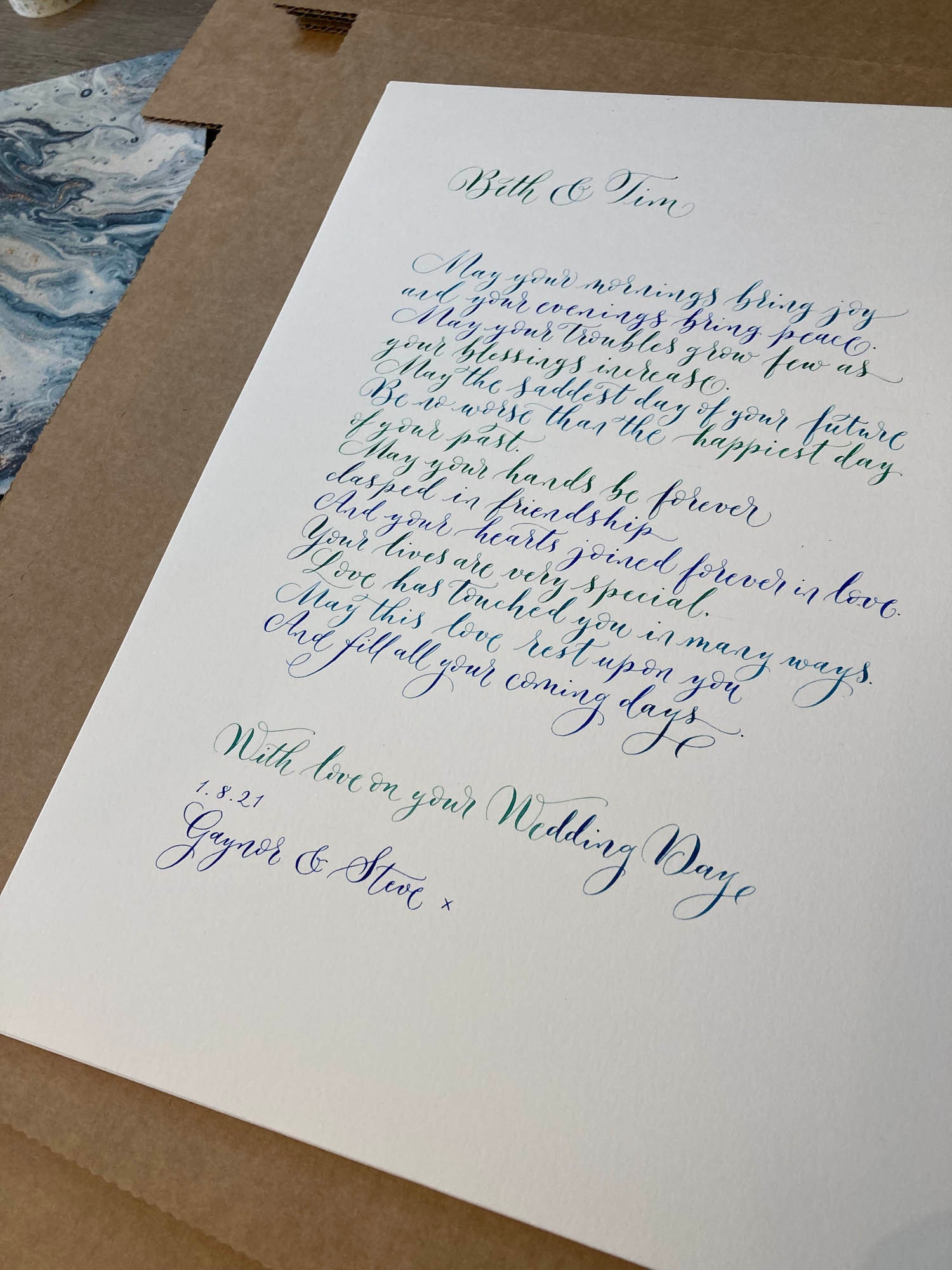 This really special gift was for Gaynor and Steve on their wedding day in 2021. 
"May your mornings bring joy
and your evenings bring peace.
May your troubles grow few 
as your blessings increase.
May the saddest day of your future
be no worse than the happiest day
of your past.
May your hands be forever 
clasped in friendship.
And your hearts joined forever in love.
Your lives are very special.
Love has touched you in many ways.
May this love rest upon you
And fill all your coming days."