At the end of my calligraphy workshops, I always try to encourage everyone to make their practice at home FUN! 
For me, that means using colour: exploring darker papers and bright inks, metallics and textures. It also means writing something inspiring. 
Music is my (hmm... fourth?!*) love! When I'm not exploring the countryside with Steve, we're often at a concert - and we love proper bands, crazy audiences and heavy music!
The contrast between rock / metal anthems and delicately swirling calligraphy is wonderful. (Credit to heavy metal for having the most amazing lettering and artwork on their vinyls since day one, by the way!) 
This piece of calligraphy was simply practice for me. It's kind of lovely to set aside a few hours to create something special. I took time with the layout, wrote a few drafts in pencil on white paper to work out where all the swirly bits should go, and finally created the calligraphy ink version in white, on a dark blue paper.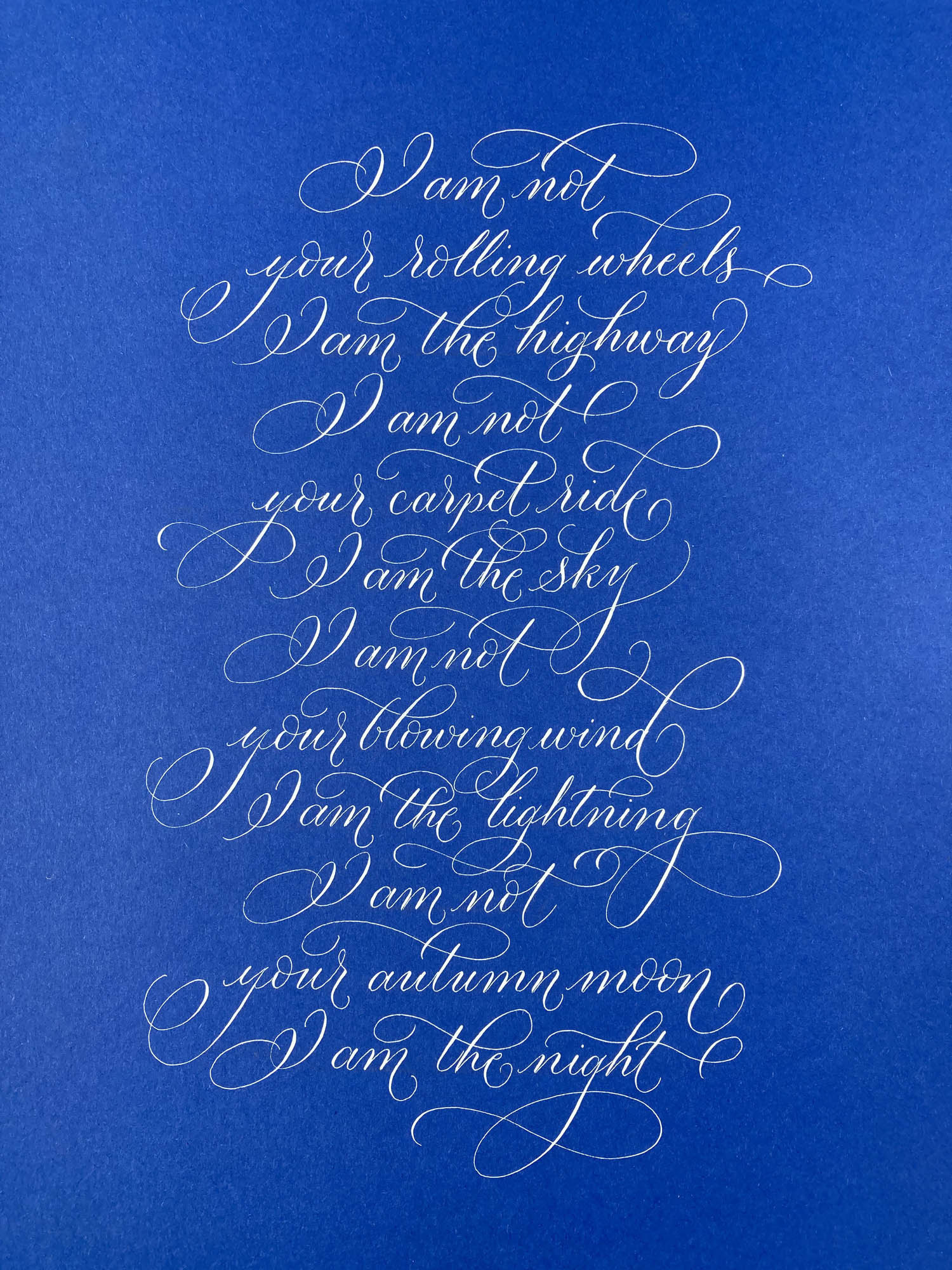 For those of you not familiar with the song, it's Audioslave's I Am The Highway. This comes on in my car all the time, so if you ever spot a little white mini with a bright green octopus on the dash, granny-driving along the Cumbrian roads, with a slightly middle aged woman in the front seat singing her absolute heart out to this... that'll be me. 
Calligraphy song lyrics are great for practice because they allow you to create a chunk of lettering, to play with layouts and to sing along while you write! 
If music isn't your thing, try writing your shopping lists in calligraphy, or filling a page with place names you love, your family's names... perhaps writing a tiny extract from your favourite book, or a quote by someone amazing.
*My loves, at time of writing: 
1 - Steve and my family
2 - cats
3 - calligraphy
4 - music
There are more loves: food, nature, birds, running, beaches... I struggle to put them in any kind of order!